As the owner of a Mercedes-Benz, your vehicle is more than just a car. It's a statement, a cutting-edge machine, and holds extreme sentimental value to you. You want to ensure that it only gets the very best service.
You would think that this means the best option would therefore be a service at the dealership, until you realise the cost!
Luckily for you, there are plenty of independent service centres out there – the only problem is finding on you can trust with your Mercedes-Benz!
Any mechanic can call themselves a Mercedes-Benz specialist – however, not all of them walk the walk!
Mercedes-Benz servicing shouldn't be left to a generalist mechanic. And while there are many self-proclaimed Mercedes-Benz experts out there, Ammstar stands out among them as one of the few that actually fit the bill.
What is it that makes us unique?
And why should you make us your first choice for Mercedes-Benz servicing in Melbourne?
1) A true specialist has Mercedes-Benz specific knowledge and skills
Mercedes-Benz vehicles are among the most complex on the market, precisely engineered for exceptional performance.
Take it from us – the inside of your Mercedes is characterised by unique parts, sophisticated control systems and tight tolerances. Frankly, not all mechanics are familiar enough with Mercedes-Benz vehicles to work around these traits.
Making things worse, a recent report from the ACCC found that many car manufacturers are withholding vital technical data from independent service centres – data that's essential for providing your Mercedes-Benz with a quality service.
The result? There's no guarantee that your Mercedes-Benz "specialist" actually knows their stuff!
We're genuine experts
When you choose Ammstar for Mercedes-Benz servicing in Melbourne however, you can be confident you're being looked after by a genuine expert.
Our team includes 17 specialist Mercedes-Benz mechanics, many of whom come from the dealership network themselves and bring with them extensive experience and knowledge about Mercedes-Benz vehicles, as well as brand and model-specific knowledge.
Additionally, we also employ Mercedes-Benz Certified Diagnostic Specialist Mechanics. This gives us the ability to make far more accurate diagnoses for even the most obscure systems and parts.
Finally, our team are also qualified to provide niche services.
For example, we're licensed to perform automotive air conditioning repairs (license AU10163) – this is a service that not very many mechanics offer! 
2) Do they have specialist tools and equipment?
There are some tools and equipment you'll find in just about any mechanic, such as car lifts and engine hoists.
When it comes to vehicles with the three-pointed star however, there's a host of other equipment and tools needed to perform a Mercedes-Benz service.
For example, like many vehicles, modern Mercedes-Benz vehicles are run by computers (in fact, Mercedes was one of the first car manufacturers to do so). To perform a diagnosis on modern cars, your mechanic will need a diagnostic tool that interfaces with your electronic control unit.
With Mercedes-Benz vehicles, specific diagnostic tools are needed to make an accurate diagnosis. Unfortunately, not all generalist mechanics will have access to these.
Luckily, you won't need to worry about this with Ammstar.
In addition to brand-specific knowledge, our Mercedes-Benz mechanics have access to specialist tools and equipment typically only found in a Mercedes-Benz service centre.
This is one of the benefits of specialising in Mercedes-Benz servicing. A generalist mechanic can't justify investing in tools or equipment that only works with one specific brand.
Since we work primarily with Mercedes-Benz vehicles however, everything in our workshop is selected with an eye towards vehicles that bear the three-pointed star, down to the specific motor oils service your car with.
3) Do they have the experience to back it up?
Take a glance at your typical independent service centre. You'll probably see a lot of Toyotas, Holdens, Hondas and the like filling up their workshop.
Less common will be high-end European brands like Mercedes-Benz.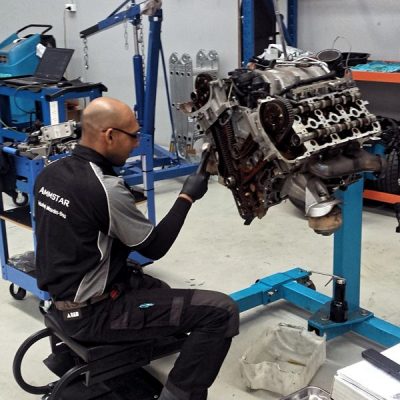 Most Mercedes-Benz owners take their vehicles to the dealership (and pay a lot of money to do it), since they mistakenly believe that's the only option for a quality service. As a result, a generalist mechanic may only see a Mercedes once every month or so.
The thing is, a lot of the issues that may be discovered during a Mercedes-Benz service aren't listed in the service guide. For example, one such issue is timing chain issues in vehicles powered by variants of the M271 engine.
A generalist mechanic might not recognise the issue immediately. Not to mention, they may also lack the know-how, tooling and relationships with parts suppliers to remedy issues that are this severe.
Specialising in Mercedes-Benz since 2000
We've been providing Mercedes-Benz servicing in Melbourne since 2000. Ever since then, we expanded from a small team to 28 staff spread over 3 locations all over the city.
That's 19 (soon to be 20) years of servicing Mercedes-Benz vehicles!
When it comes to cars, hands-on experience counts for a lot. Not only does it allow us to make a faster diagnosis, but it also means that we're able to catch issues that would slip by unnoticed at a generalist mechanic.
Once the warranty period on your vehicle ends, the dealership can become much too expensive for Mercedes-Benz servicing.
Many of these motorists bring their older vehicles to us, thanks to our lower Mercedes-Benz service cost – as such, we've built up a wealth of experience working with these older Mercedes models.
4) They use quality parts that are fit for your Mercedes
The last thing you want going into your Mercedes-Benz are cheap, poorly-made parts from no-name brands.
Unfortunately, that's what you'll get at many mechanics!
Some generalist mechanics will even try to cut corners by utilising "one-size-fits-all" parts during your Mercedes-Benz service.
Either of these cases can lead to your vehicle struggling to perform, as cheap parts are more prone to premature wear and breakage. This can even result in significant engine problems further down the line!
We work closely with original parts manufacturers
As Mercedes-Benz lovers ourselves, we understand that each non-Mercedes part in your vehicle makes it feel just that little bit cheaper, and less exclusive. That's why we make it our mission to ensure your vehicle gets only the best!
Unlike generalist mechanics, the Ammstar team have built strong relationships with original parts manufacturers over the years. This gives us access to original and high-quality OEM parts – no dodgy aftermarket parts here.
It's thanks to these relationships that we're able to keep your Mercedes operating at peak performance and efficiency, whether it's a routine service or a major repair.
This dedication to quality even extends to the motor oil we use.
Motor oil is the lifeblood of any engine. It's responsible for lubricating, cooling and cleaning your engine, all of which keeps it performing at its peak. To keep your Mercedes in peak condition for years to come, you'll need oil that's a specific viscosity, with special additives to prolong your engine's life.
Over the years, our Mercedes-Benz mechanics have noticed that certain motor oils do a better job of protecting your engine from wear and keep your engine performing at its best.
5) They're passionate about the brand
And really, isn't that what you want when looking for Mercedes-Benz servicing in Melbourne?
Your Mercedes is more than just a way of getting from A to B. It holds incredible value and significance – it's only natural to want the very best for it.
As Mercedes-Benz lovers ourselves, we completely understand where you're coming from!
Choose Ammstar for Mercedes-Benz servicing in Melbourne
You love your Mercedes-Benz – and so do we.
As Mercedes owners ourselves, we understand that keeping your Mercedes running can be expensive if you go to the dealership. We also understand that just because you own a Mercedes-Benz doesn't mean you have infinite pockets!
It was this understanding (as well as our passion for the brand) that led to us opening Ammstar in the first place.
Since 2000, our mission has been to provide Mercedes-Benz owners like yourself with superior value by combining the depth of service offered by a dealership with the superior prices and flexibility typical of an independent mechanic.
That was 19 (now almost 20) years ago – since then, we've kept that promise!
Get in touch with our expert mechanics today – give us a call today:
Alternatively, click here to book a service – we promise you won't regret it.